When the idea of a website for a show that was web based was first suggested it didn't make too much sense to me. Websites were where most people went to for information, for news, and anything else they needed. However, the more people spoke to me about the idea the more it made sense. Not to simply have a place where all the information was collected in one place, that was already there, but to have a place where lively discussions could be had, where your admiration could be voiced amid like-minded people, where your inspired creations could be housed. So ABMFans was born.
I hope I have been successful in creating a place that seasoned ABMers and newbies alike enjoy visiting. I hope that visitors of the site not only look at the content but contribute to it as well, whether that be in Forum posts, fan submissions, or even the odd tweet here and there. This site was created for ABM Fans, please help to make it a place you want to visit.
If you ever have any questions or any suggestions then please let us know. Tweet, e-mail, private message. There are numerous ways to contact the ABMFans team. Remember, this site is yours as much as ours.
Enjoy
ABMFans

http://www.twitter.com/ABMFans
---
The Team
Gem (Creator/Editor-in-Chief/Writer/ABM #1SuperFan)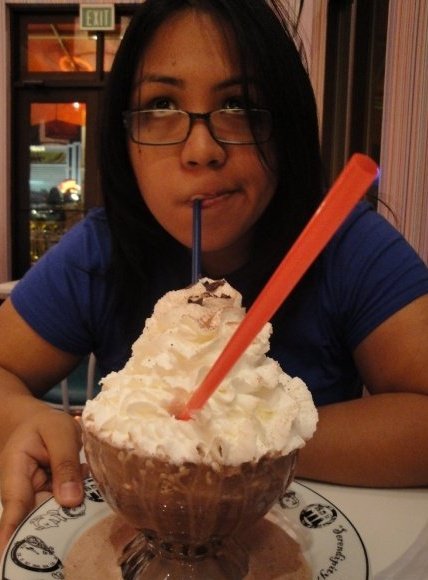 'My life is an open book, but don't expect me to read it to you.' – David Hyde Pierce
I am a Londoner born and bred. This city is my home and there are few things better than roaming its streets and falling in love with it over and over again. I have sampled other cultures and have fallen in love with almost every place on which my feet have touched the ground. Once a tempestuous relationship I finally accepted that a part of my heart forever lives in New York City. As familiar to me now as my own city, I keep finding reasons to return.
I can most often be found with either a book, camera, or pen in my hand. Self-confessed geek and proud of it! My pile of comic books would tower over most people, I love Kevin Smith movies, and I know all of the words to 'Once More with Feeling'. I don't know how to do things by halves; either I love something totally or not at all. My encyclopaedic knowledge of the most random things comes from a thirst for learning and Google. I think Frasier beats Friends hands down, Ferris Bueller will forever be my hero, 'Beauty and the Beast' is one of the greatest movies ever made, I can (and have) spent whole days watching Extreme Makeover: Home Edition or the Food Channel, and I will think less of you if you don't know what you need 1.21 gigawatts of power for.
My love for ABM stems from the very real fact that it is the best thing I've seen in years. I set the bar high; I count 'Six Feet Under' and 'The West Wing' as two of my all time favourite shows, ABM sits comfortably amongst my elite. I am a fervent supporter of Team VivSter and can only hope my pleas – and the pleas of many others, do not go unnoticed. I love the people involved in this show, and I make no secret of how much I simply adore Rachael Hip-Flores. I am not only a card carrying member of the 'I love ABM' Fan Club, I am its President. This is my confession.
gem.jacob@anyonebutmefans.com
www.twitter.com/gemified
Tricia (Contributor/Site-Admin/Forum Queen)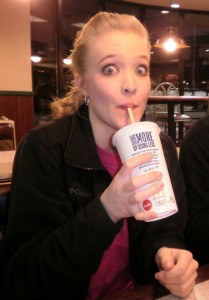 I'm Tricia. I'm a fairly typical 16 year old girl from the midwest United States – corn fed and loving it. However, a farm girl I am not. I was raised in the 'burbs. I've had a deep love for Nick @ Nite shows, like Full House, The Nanny, Malcom in the Middle, and George Lopez since I was a youngster, and in the recent years have added shows such as The L Word, Chelsea Lately, Glee, and Scrubs to my "must watch" list. I adore reading and can usually finish a novel in a day if I have 3 or 4 hours of free time. However, theater was my first love, and will always be my passion in life. I hope to enter a musical theater program at a university after graduating high school, and hopefully eventually make a living doing what I love. If my friends and family had to describe me in only a few words, gregarious, talkative, and loud would definitely be among the top picks.
My passion for Anyone But Me branches from two of my other passions in life – girls and good acting. I'm constantly wowed by the sheer emotion in the ABM cast's performances, and when I'm passionate about something I'm always ready to get involved to whatever lengths necessary to spread the word about it.
Drop me an e-mail if you want to know more or just feel like chatting =]
Oh yeah…and I love chocolate shakes.
TriciaRichards@anyonebutmefans.com
www.twitter.com/TriciaRichards