Rachael Hip-Flores (Vivian McMillan)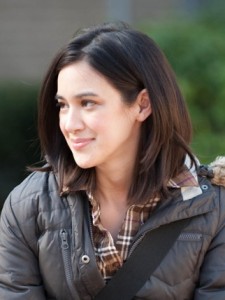 A graduate of the Mason Gross School of the Arts at Rutgers University, which included a semester at Shakespeare's Globe in London, and lover all things geeky, people seem unable to not warm to Rachael Hip-Flores. Her work includes several plays with the Judith Shakespeare Company, as well as productions of 'Twelfth Night', 'I'd Rather be Falling', and 'Trying'. Her other work includes roles in several independent films, including 'Lucrecia' and 'Mordere', as well as a part on 'Gossip Girl'. Beloved by fans and applauded by critics alike, we can only stand back and watch in awe as the world comes to know this wonderful young actress.
Vivian's struggle to be everything to everyone is central to ABM's storyline. After moving to Westchester with her dad, Vivian has to redefine herself at a time when she is still trying to understand who she is. With worries about her father's health never far from her mind, and the difficulties of trying to maintain a long distance relationship with her girlfriend Aster, as well as fears of how others will react to an identity she was so comfortable with in the city, Vivian's life is anything but easy.
Nicole Pacent (Aster Gaston)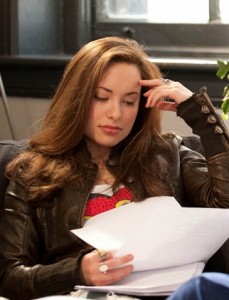 The comparison to Angelina Jolie is undeniable and never unnoticed. Though it may be her Angelina-esque looks that first garner many people's attention, like her famous looky-likey, it is her talent that keeps your attention. Being the founder of the charity, Relief through Rock, it is not just Ms Jolie's good lucks and talent that Nicole appears to share. A NYU alumnus, many of Nicole's previous credits are in the theatre, having taken part in productions of 'The Seagull', 'West Side Story', and 'Much Ado About Nothing'. ABM marks a departure from the world in which she was trained but audiences and critics alike have welcomed her.
Head-strong and impetuous, Aster certainly makes life interesting, especially for her girlfriend, Vivian. Whilst Vivian struggles in Westchester, Aster has her own issues to deal with in the city, including absentee parents. She wants nothing more than to have a happily ever after with the love of her life, but her actions often cause more drama for the young couple.
Jessy Hodges (Sophie)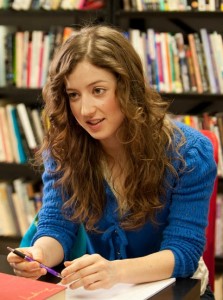 The daughter of a star of a 1980s cult-classic this graduate of the Experimental Theatre Wing at Tisch School of the Arts, NYU, already has a pretty impressive resume with theatre credits include 'The Metal Children', 'Misery and Good Fortune', and 'Gilgamesh's Game'. Jessy has also worked with the comedy group BriTaNick and can be seen online in sketches with them.
Vivian's neighbour and childhood friend, Sophie has played an important part in Vivian's Westchester life from the start. Trying to define herself outside of her relationship with Jonathan, Sophie is adept at keeping secrets – both hers and Vivian's. More than just the prettiest girl in the school, Sophie refuses to be pressured into anything she doesn't want to do.
Joshua Holland (Archibald Bishop)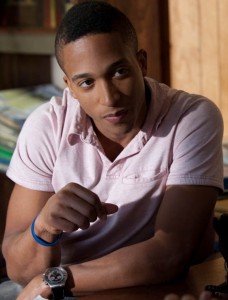 One of ABM's more recognised cast members; Josh has been spotted around the world. However, it may not just be his work on ABM that has garnered him this recognition. His face is familiar to many because of the myriad of commercial, fashion, and print modelling he has done, which has included a spot on the Rachel Ray show. His work as a personal trainer has taken him around the world and back again. Truly one of the nicest and most genuine people you could ever meet, there is no need to worry that when he does stand still his hard work and talent will speak for themselves.
Archibald is everyone's favourite comic-book drawing guy at Clarence High. Fast friends with Vivian he has offered her someone that she can be herself with. Always harbouring a crush for Elisabeth things have recently developed with her, however they are still on unsure ground. Coupled with the pressure from Principal Dennis to be his own personal student body spy, Archibald's school life is not always easy.
Mitchell S. Adams (Jonathan Kerwin)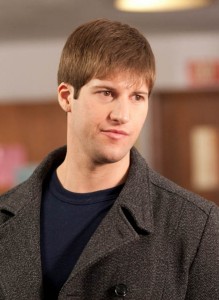 A graduate of Tulane University in New Orleans, this native New Yorker pursued acting once he returned to the city. He has studied with Flo Salant Greenberg as well as Gabrielle Berberich and Larry Singer at Michael Howard Studios. His work includes independent films and commercials; apart from ABM you may recognise him from his work on 'Gossip Girl'.
The high school quarterback who was dating the prettiest girl in school, things should be easy for Jonathan. Caught up in everything he's supposed to be doing he is lost without Sophie by his side. Sometimes immature in his thoughts Jonathan is a good guy who's just trying to keep the girl.
Alexis Dominique Slade (Elisabeth Matthews)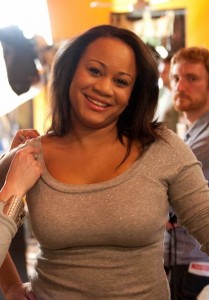 Also a recent graduate from Mason Gross School of the Arts at Rutgers University, Alexis has performed in 'Much Ado About Nothing' at Shakespeare's Globe in London, as well as in 'Firecracker' and 'It's Our Town, Too' in New York. She has recently joined two New York theatre companies, Inertia and Theatre Lila.
Focussed on her career as an actress, everything Elisabeth does moves her close to this goal. Always concerned that she's not good enough or that she's not working hard enough she is in danger of missing what's right in front of her. A chronic worrier her insecurities threaten to ruin her budding romance with Archibald.


Garett Ross (Sterns)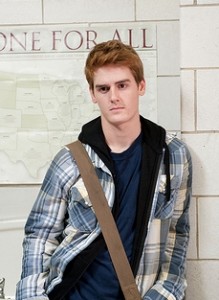 Moving to New York from Denver, Colorado, Garrett has trained at the University of Connecticut and has studied the techniques and teachings of the Jacques Lecoq School. His theatre credits include 'Death of a Salesman', 'Much ado About Nothing', and one of the best musical characters – Seymour Krelborn in 'Little Shop of Horrors'. His film credits include 'Taking Woodstock' and various other independent films.
An inauspicious introduction to the world of ABM, Sterns was just another obnoxious high school guy. Following a few shared words with Vivian however Sterns has the potential for much more. With a secret crush on Vivian, we wait to see what could come of his unrequited feelings.
Amy Jackson Lewis (Jamie)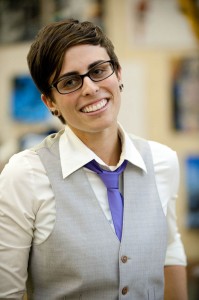 Another NYU alumnus, Amy joins the ranks of her fellow cast members, Nicole Pacent and Jessy Hodges, as a graduate from NYU's Tisch School of the Arts. Her film credits include 'Knucklehead', the Sundance Film Festival Selection 'Family Reunion', and the upcoming collection of short films, 'Casual Encounters'.
Not just another girl in the hallways of Clarence High, Jamie has made a big impact in the world of ABM and the lives of Aster and Vivian in a very short space of time. Certain of who she is the attraction for Aster is obvious, how strong Jamie's appeal is has yet to be seen.



Barbara Pitts (Jodie Nevan)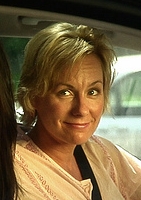 With an Emmy nomination (co-writer for 'The Laramie Project') and several film and TV roles including 'Law & Order', 'As the World Turns' and 'One Life to Live', Barbara has an impressive resume that is only enhanced by her work in theatre. With roles in 'A Streetcar Named Desire' and 'Drifting Elegant' Barbara has appeared on the stage all over the USA.
With an already formed family moving into her home, Jodie has to learn what it is to have a teenager not only in her life but under her roof. Trying hard to be a "cool" parental figure for Vivian whilst also laying down a few ground roles Jodie finds the balance difficult at first. However, Vivian's revelation brings her closer to her niece but could cause issues for her and her ex-brother-in-law.
Dan Via (Gabe McMillan)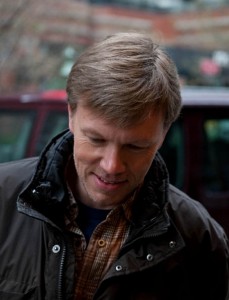 Having recently written and starred in the play 'Daddy', Dan's talents are not limited to performing, although his list of work is notable. He has had roles in 'Jerry Springer: The Musical', 'Much Ado About Nothing', '1984', and 'Someone Who'll Watch Over Me'. His film and TV work includes 'One Life to Live' and 'Soulmates'.
A 9/11 first responder, Gabe's health issues are what force he and Vivian to move to Westchester. He treats Vivian like an adult and trusts her to do the right thing. Like his daughter he is trying to find his place now that everything he knows, and the very things that defined him, are no longer a part of his life. He is still learning how to share parenting duties with Jodie, but their friendship has offered him the support he needs.
Liza Weil (Dr. Glass)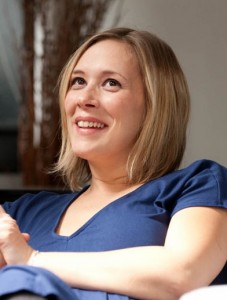 Hailing from a family of actors she has been acting from a young age. Most known for her role as Paris Geller in the 'Gilmore Girls', Liza Weil career also includes roles in feature films like 'Stir of Echoes' and independent movie 'Whatever'. She has also had parts on 'ER' and 'The West Wing' and continues to be active in the Los Angeles theatrical community. Sharing a personal connection with ABM's writer/producer, Susan Miller, I am sure the cast and crew were happy for her to join the cast in S2, and we hope we get to see more of her.
As much as we all love Aster, there is no doubt that she could benefit from having a sensible adult-figure in her life, enter Dr. Glass. Enlisted to help Aster deal with her issues surrounding her parents' divorce, the straight-talking therapist gives Aster a chance to talk about the thoughts and fears that are running through her mind without fear of judgement or the need to always be the strong one. Dr. Glass does not pretend to know all, or even any, of the answers. However, her influence in Aster's life can hopefully help her as she tries to survive being a teenager.
Helene Taylor (Mrs. Winters)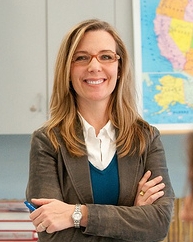 Helene Taylor is an Alumnus of the New York Atlantic Theatre School and the Labyrinth Theatre Company's Master Program. She has worked in film and has hosted her own award winning television show on environmental issues in her native Canada. She currently hosts a show, 'Pajama Talk' with former 'Law & Order: SVU' star, Diane Neal, and David Waldron. A closet screenplay writer, she has also had several of her short plays performed in New York.
As Clarence High's Journalism teacher, Mrs. Winters gets to instil in her students the tools needed to become great writers. Sometimes frustrated by the lack of enthusiasm her students show Mrs Winters' passion for the news is sure to rub off one day on her would-be journalists.
Johnny Yoder (Breck)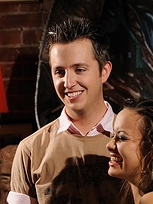 Johnny Yoder is a graduate of the Stella Adler Studio of Acting and has a BA in Theatre Arts and Management, University of Wisconsin. His theatre credits include 'The Third Step', 'Life and Limb', 'A Midsummer Night's Dream', and 'The Laramie Project'.
With Vivian in Westchester, Breck became Aster's partner-in-crime in the city. He is tasked with the difficult job of looking after Aster, having to protect her from herself sometimes. He is the voice of reason and tries to get Aster to see sense when she is in her most stubborn moods.



Marissa Skell (Carey)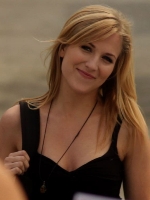 This graduate of the Acting Conservatory at SUNY Purchase is making her mark on the West Coast having moved there shortly after graduation. A familiar face to many, although they may not know where exactly from, Marissa joined ABM's cast in Season 3. Her past credits have included appearances on TV shows 'The Mentalist', 'Criminal Minds', and 'General Hospital'.
One could argue that for ABM fans Carey is Marmite – a term Brits use to describe something you either love or hate. The Architecture student who offered Aster a place to sleep on the West Coast and more importantly, when she most needed it – a friend, Carey has provided an escape and with a mature outlook on life and love she has proved a positive influence on the impulsive Aster.
Jesse May (Benjamin)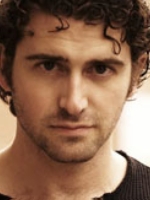 Born and raised in the mid-west, and a graduate of the National Theatre Institute and the St. Petersburg State Theatre of the Arts Winter School conservatory programs, Jesse has been living and working in New York for some time. He has appeared in TV commercials and film, as well as Off-Broadway with the Mirror Repertory Company. Jesse has also received a Spotlight on Award for his performance of Gwydion in FHB Productions' 'Avalon'.
We have known of the relationship Sophie has kept so secret for a while, but it was not until Season 3 that we were finally introduced to Benjamin. The older man, who is also a teacher at a different school, we understand why the relationship was kept secret.  With every encounter leaving Sophie increasingly more upset it seems he can bring her nothing but heartbreak.
Russell Jordan (Principal Dennis)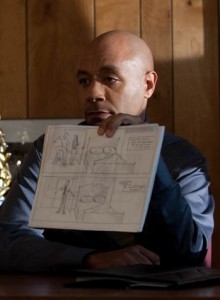 A New York actor actually from New York, you may even be able to hear Russell's voiceovers at the Holland Tunnel and JFK Airport. He has a BA in Theatre from City University New York and is a member of the American Federation of Television and Radio Artists (AFTRA). He has worked on stage in 'Antigone' and film in 'Singularity' as well as in original videos for CollegeHumor.com.
Principal Dennis seems adamant in making Archibald's life difficult by enlisting him as his eyes and ears in Clarence High. Willing to do what it takes to ensure the welfare of his students he does not care how difficult he is making things on Archibald, adding to the pressures he already experiences.