Tina Cesa Ward (Executive Producer/Writer/Director)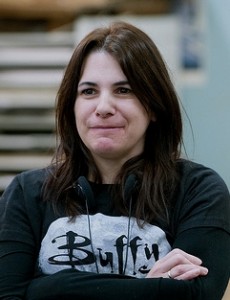 Tina is one of the Goddess of the ABMverse, Susan's partner-in-crime when it comes to the crafting of ABM's storylines. As editor and director, Tina is also responsible for what we see on screen. The momentary linger on Aster's smile, Sophie's glance that lasts a bit too long to not mean anything, the thoughts running through Vivian's mind. All of these things brought wonderfully to our screens by Tina's direction to form a visually superb feast for us to devour. She has tirelessly helped promote and support ABM and the whole medium of the webseries. With a geek pedigree that includes a love of comics and all things Buffy her visual and storytelling abilities are obvious. We have nothing to fear in terms of where ABM will go with Tina on board.
With previous experience in film and stage ABM is the first venture into episodic storytelling for Tina. A graduate of Columbia College, Chicago – where her film 'Bardo' was applauded as one of the best films of the year, Tina is now very much a NYer. She has even gone so far as becoming a Mets supporter, over the Yankees, a controversial decision in many circles. Amongst Tina's accolades for her work she has received the Jean Dalrymple Award for Best Director (2002) for her production of 'Freak Show' and was also awarded five times, domestically and internationally, for her short film 'In Their Absence'.


Susan Miller (Executive Producer/Writer)
For people just coming to learn of her work Susan is perhaps best known for being one-half of the creative team behind ABM. The other Goddess of ABM she holds the fate of our beloved characters in her skilful hands, she is in equal parts the creator and destroyer of worlds. Through two seasons she has helped create characters that we love and weaved storylines that have us begging for more. The screams can be heard around the world as the credits begin to role. Never one to divulge a storyline, even when pressed, she keeps ABM's growing audience coming back. An active voice in terms of LGBT issues as well as a pioneer in the next evolution of entertainment we can only wait, and pray, to see where she takes our beloved characters. However much she breaks our hearts our faith remains placed in her more than capable hands.
A two-time OBIE winner for her plays 'My Left Breast' and 'Nasty Rumors and Final Remarks' and the recipient of a Guggenheim Fellowship in Playwriting, Susan's writing credentials speak for themselves. She has had her articles appear in publications such as O, The Oprah Winfrey Magazine, Girlfriends, and American Theatre. She is also responsible for one of many L Word viewers' favourite episodes in which they, "deploy a mission to ascertain the disposition and intent of one Ms. Lara Perkins." She has worked with some amazingly talented people including Zachary Quinto, Diane Lane, Frances Conroy, Eric Stoltz and most awesomely David Hyde Pierce and Lily Tomlin!