She's ABM's #1 Intern and Second A.D., but does Meredith King know her ABM? We sat down with our favourite intern to see just how good her knowledge is on our favourite show. Considering she had no idea what she was getting into I don't think she did too badly…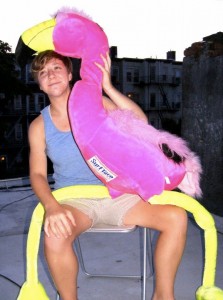 1. What t-shirt was Rachael Hip-Flores wearing in the 'Writers on the Lam' segment?
Pass! Just kidding, probably her ABM shirt? Or something with a giraffe.
X The correct answer is a Goonies t-shirt.
2. Which cult 80s movie film did Jessy Hodges' mum star in?
Totally watched this last week. "The Living Dead" and her mom is hot. Jessy is hot too.
√ Correct (edit: I knew she meant "Evil Dead" so the point still stands).
3. Name either of the plays Susan Miller won an Obie for:
My Left Breast?
√ Correct.
4. What place did Nicole Pacent come in SheWired's Woman of the year?
She got 2nd place which is pretty stellar. I'm going to say that word from now on.  Nicole is also stellar.
√ Correct.
5. Which editor does Vivian have to shadow on their trip to the New York Times?
My memory is not so stellar at the moment…umm, I can tell you what it's not.
X The correct answer is the Features Editor.
6. What are the two names Dr Glass suggests for her baby?
Charlie or…Jack maybe.
√ Correct. Half a point. Charlie and Alison.
7. What was the air date of the premiere episode?
Oh man that is tough, I have no idea.  Feb. 7th… that is my birthday, just sayin.
X Noted. The correct answer is December 8th 2008.
8. What does Aunt Jodie cook for breakfast the first time Aster stays over in Westchester?
Pancakes!
√ Correct.
9. What comic book character is Archibald drawing when we first meet him?
You're good with these questions… I will say Superman.
X The correct answer is Green Lantern.
10. What poster does Sophie suggest Vivian put up on her wall?
Star Wars? ha
X The correct answer is Twilight (although I want to give bonus points for that answer).
ABMFans: You wanna know your score?
Meredith: I guess. 2/10.
ABMFans: 4 1/2. See, you did better than you thought.
Meredith : Haha thanks.
Thanks so much to Mer for agreeing to be the first contestant in ABM Mastermind. How well did you do? More importantly, how well will the next ABMer do when they sit down in the ABM Mastermind chair?