With talk of the Ultimate ABM Mastermind Challenge spreading through the ABM ranks, potential contenders are eager to see what lays in wait for them. On a cold NY evening I got the person on the side of one of ABM's most divisive debates to sit in the Mastermind chair. Jessy Hodges, do you know your ABM?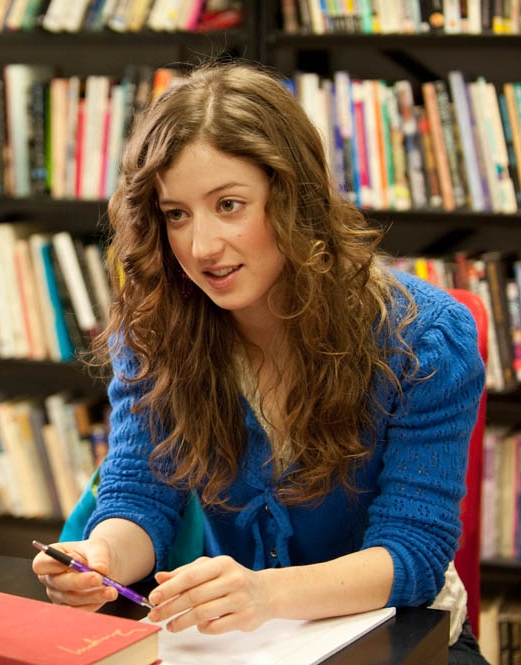 1.       Vivian follows the Features Editor on her visit to the New York Times. What was the subject of the article for which he received a Pulitzer Prize?
The treatment of women in Afghanistan!
√ Correct.
2.       How many hours are there until Vivian sees Aster at the beginning of ep1.3 – Countdown?
…6?
X The correct answer is ten hours.
3.       "I'm down with that. I worked so hard to make that come out right." Who says that line to whom?
Aunt Jodie says that to me(!) (Sophie) about driving Viv to school I believe…
√ Correct.
4.       Why does Aster want to go to Jonathan's party?
So she can meet Vivian's friends from school.
√ Correct.
5.       How does Breck describe the way the girl was looking at Aster outside the MET?
Jessy: Oh good…ummm…I thought he just said "staring"…
ABMFans: She's staring at her a certain way…
Jessy: Checking you out. F*ck. I can't remember!
ABMFans: Take all the time you need
Jessy: Ahhhh!!! Like she wants to have your babies!!
√ Correct.
6.       What advice does Sophie give to Elisabeth in the bathroom in the first episode of Season Two in relation to Archibald?
You need to talk to someone wiser…and…just keep kissing!
√ Correct.
7.       What does Aster say Aunt Jodie knows how to make well?
Umm take-out; Chinese take-out or something.
√ Correct.
8.       What does Aster ask if she can bring when asked what she would take to a desert island?
Vivian. I think, "you."
√ Correct. Half a point. A person.
9.       According to Doctor Glass, what are "big emotions" a sign of?
Jessy: Umm. Big thoughts? Big feelings?
ABMFans: Final answer?
Jessy: I think it's big feelings…?
X The correct answer is "something big."
10: Finish the scene:
Jonathan: Vivian McMillan?
Sterns: Yeah man, what's the problem?
Jonathan: Nothing if you like weird girls.
Sterns: Yeah I can see how being smart and funny would be weird to you.
Jonathan: Sophie's not smart?
Sterns: Smart enough to drop your ass. Notice how you left out the word funny in your Sophie defence. Guess my girl wins this round.
Jonathan: Vivian's not your girl.
Sterns:
Ahhh. And Sophie's not yours either…or something like that!
√ Correct.
ABMFans: Not bad at all.
Jessy: Do I get my score now??
ABMFans: Nope.
Jessy: !!!
ABMFans: No one gets to know their score until it's posted. I will say, you're not last.
Jessy: Hah excellent!!! That's all I can ask for.
A very impressive showing indeed from Jessy, although she was very fortunate in getting a set of questions that lent themselves more to knowledge she should have. However, as she assured me that she hadn't studied I am suitably impressed and she now stands joint second with ABM's uber-geek, Rachael Hip-Flores. It seems that the ladies of ABM certainly know their ABM.