Perfecting Heartache
I had spoken to Shiran Farbman a few times before she volunteered to be part of the ABM Fan Focus. She has always been a willing participant in the ABM Mastermind and has proven herself time and time again, and no doubt will make a great showing in the Ultimate Mastermind Challenge. However, she's more than just a reservoir of ABM knowledge.
An English Literature student from Israel with a love of Bronte, the fact that she was excited to start studying Austen made me suspect that it wasn't just her love of ABM that I would appreciate. When I found out she loved to cook and has found a way to do so that doesn't involve her having to do dishes, it was pretty much confirmed.
As always after conducting an ABM Fan Focus I am not only grateful for all things ABM but also that it is a show that has managed to cross every border imaginable and unite people across the world because of the perfection of the stories being told. Whatever language you speak, wherever you're from, whoever you are, there's no denying the brilliance shown in front of the camera and behind it on every episode of ABM.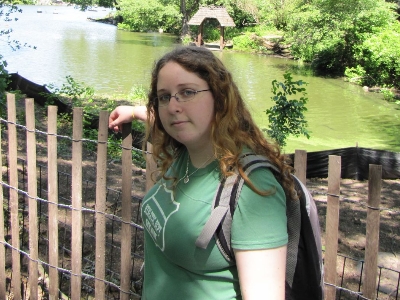 ABMFans: What is it about ABM that made you start watching, what is it that keeps you coming back?
Shiran: I first started because I was looking at the Streamys winners list and saw that Rachael won. I wondered about that because I've never seen a drama webshow, plus good acting? That's great in my book. So I started and saw everything up to the last episode which was Season 2 episode six at the time. The show just feels real in how teenage life is, the writing is so smart and natural and the acting was unbelievably good for a webshow.
ABMFans: So if you know the Streamys you must have been watching other webseries, right? Which ones?
Shiran: The Guild was what got me there, and I also really loved The Battery's Down (R.I.P) which I just feel didn't get enough attention.
ABMFans: ABM's my first webseries love.
Shiran: Aww… that's so romantic.
ABMFans: That's probably why I'm such a dork about it.
Shiran: You never get over your first love.
ABMFans: True, and right now it's just as heartbreaking!
Shiran: Oh yeah. I never know whether to love or hate Susan and Tina
ABMFans: I tend to love them, only because if I started hating them they might do something really mean. Well not only, but fear is a big part.
Shiran: But when you love them, they do mean things. Maybe we should try changing our game plan.
ABMFans: I think one day they'll take pity on me and start being nice again.
Shiran: Fingers crossed.
ABMFans: Absolutely. What do you think about the quality of ABM compared to other shows you watch?
Shiran: The two main things I look at when I'm watching a show, on TV or the web, are acting and writing. And I think ABM has these two aspects down perfectly. All you need for a show is a good story, and actors who make it real.
ABMFans: What has been your favourite storyline?
Shiran: Oh! That's hard. I think I'm really interested in what's going on with Sophie, because she's going through something just so typical for their age. And Viv's reacting or lack of reaction for that makes me curious.
ABMFans: What do you think is happening with Sophie? Is she just curious or does she really like Vivian?
Shiran: I think she doesn't know yet. I don't know one person who hasn't questioned their sexuality at one point or another. She met someone she likes who's gay, she just broke up with her boyfriend, it's understandable that she'll wonder. She might be really into Vivian or just wanting to try something new.
ABMFans: True, I'd just prefer it not to be Vivian.
Shiran: That's the easiest solution – going for the close friend who's pretty and cool and also has a girlfriend, which makes her a forbidden fruit.
ABMFans: She needs to remember the forbidden part.
Shiran: But I don't wanna see Aster and Vivian break up, that would be too sad. That's why I'm always suggesting my master plan – Sophstervian. Just think for a second, how hot would that be?!
ABMFans: Hmm, I don't think Aster's the type to share. And that's only asking for more trouble.
Shiran: As much as I'd love to have everyone happy, trouble is what makes us come back for more as long as there's a happy ending.
ABMFans: I don't know, I come back when people are happy. When shows put my favourite characters through things like this it just becomes painful.
Shiran: I allow it, but only shortly. Like, maybe, half an episode?
ABMFans: Okay so we're due some happiness now, let's hope Tina and Susan feel that way too. Who's your favourite character?
Shiran: I go back and forth between Viv and Sophie. I see a lot of my high school self in both of them.
ABMFans: What about them makes them stand out from the rest of the characters?
Shiran: They don't know exactly what they want. And they're ok with that. And they're just so pretty! What can you do?
ABMFans: True on all counts. Which event elicited the greatest reaction from you, good or bad?
Shiran: Obviously the last scene of Season 2. It was like 7am here and I was going mad. I watched the episode again immediately, then texted my friend that he has to see it so I won't be the only one feeling like that, then went to sleep and had weird dreams.
ABMFans: Yeah it was 5am here, I couldn't sleep after that. That episode needs to come with a warning.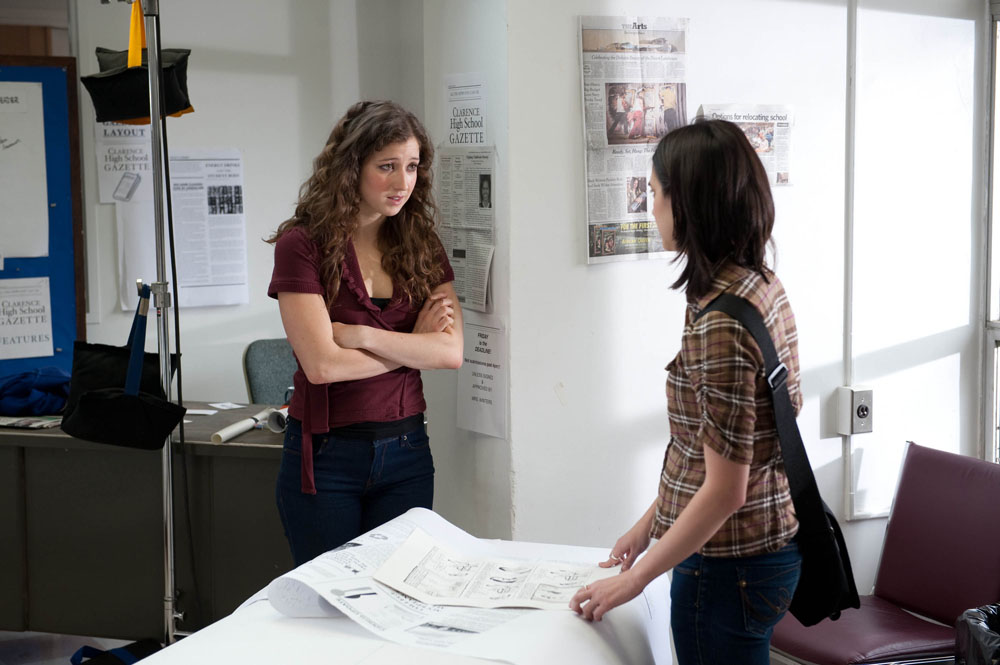 Shiran: Oh, definitely: "Hearts will break." I was waiting for the Sophie-Vivian kiss to happen (please don't kill me!) but when it did, and I saw the look on Aster's face and then the look on Vivian at the end. I couldn't handle it.
ABMFans: It's Vivian that killed it for me, she just looks so broken.
Shiran: Oh yeah. For a second I was mad at her and on Aster's side but when I saw those eyes I just wanted to give her a hug.
ABMFans: Yeah I can almost understand why Vivian kissed Sophie back, as wrong as it was and completely the wrong place to do it, but Aster's actions were her reacting to that. You knew it was going to be a train wreck.
Shiran: From the very first second. I get everyone's side, which makes it that much harder.
ABMFans: Indeed. Why do you think ABM appeals to such a worldwide audience?
Shiran: First of all, because it's so authentic. Everyone can find someone or a few people to relate to, since they're all so real. I've talked to fans from all over the world, all ages, and everyone just sees the beauty of the show. It appeals to everyone. I'm straight and I don't see it as a lesbian-themed show or a coming-out show. It's a story about growing up and wondering who you are. We all go through that.
ABMFans: That's one of the things I love about the show too, everyone's trying to figure out who they are. That doesn't stop because you're not a teenager.
Shiran: Exactly. When you're in high school you think that you'll get to, like, twenty and you'll have everything figured out. But that doesn't happen.
ABMFans: Not at all. As a fan, what do you think are the barriers that the show faces?
Shiran: Well, mostly funding unfortunately. And publicity. Webshows have it harder.
ABMFans: I'm still hoping a sponsor figures out how great this show is.
Shiran: Yeah, I really hope. The guild inspires me in that area.
ABMFans: They have a sponsor now right?
Shiran: Yeah, Microsoft which is amazing. They were just picked up for a 5th season.
ABMFans: Wow, yeah ABM needs a sponsor like that!
Shiran: Calling all sponsors! I wish I had money!
ABMFans: Don't we all. What did you think of the web-a-thon idea?
Shiran: It was great. I was really looking for a chance to contribute, and I know a lot of fans were, too. I love that we had a way of helping the show we love, giving back after everything they gave us.
ABMFans: That's certainly one of the things I enjoy most about the show, the interaction.
Shiran: Yeah, how often do you get to talk to actors and creators about a show? I mean, I was upset about many things I've seen on TV in my life and never had the option of telling the writers that.
ABMFans: The ABMers are very good with interacting with the fans, particularly Susan and Tina.
Shiran: Yeah, Rachael too. When I just started watching I wrote something about the show and about her on Facebook and she said thank you. I was close to a heart attack.
ABMFans: That's how I felt first time she responded to me, I was a little star struck.
Shiran: Definitely.
ABMFans: The scripts for S3 are already written, but what do you hope to see happen next season?
Shiran: As I said – I'm really hoping for Sophstervian to happen, though I'm not deluding myself. So I'd really just be glad to see Sophie figure herself out without hurting Vivian or Aster.
ABMFans: Yes, no more hurt would be nice. And yes, I wouldn't delude myself into the not hurting part happening either.
Shiran: From your lips to the goddesses' ears. Can they come back tomorrow please?
ABMFans: They don't listen to me. Well, they listen but they don't tell me if they're actually going to do anything about it. I trust them to do what the characters need them to do and I have to hope that doesn't involve too much heartache.
Shiran: I'll drink to that.