Fan Access
By McKenzie Morrell
The day had finally come, February 26, 2011, and no not the end of the world… but the day I got to visit the Anyone But Me set and shoot my walk on role!
I had a 7am set call in New York, which meant my butt was up at 4:45am, out the door and on the road by 5:30am. I only needed an hour to get there from Connecticut, but who'd want to risk being late? Erm, not me. Not to mention I was extremely excited for this amazing opportunity.
Driving to the set location was a bit nerve-racking, I really didn't know what to expect. I mean, you have this perception of how these people will be in "real life," but your imagination is rarely accurate. I had done an interview via Skype with Nicole Pacent so I sort of, kind of knew what she'd be like… but the rest I had only spoken to through e-mails, Facebook, and of course Twitter.
I arrived on location and spotted the cast and crew immediately. Meredith King, Producer's Assistant extraordinaire gave me the run down of the day and I was introduced to awesome people like Zelda Hallman (S3 Producer), Tina Cesa Ward (Writer/Director), and Susan Miller (Writer). All people who bring us, the fans, phenomenal content!
We shot outside for half of the day; Rachael Hip-Flores was kind enough to share her secrets to keeping warm in 17 degree weather: hand warmers, and spontaneous dance! That girl is hilarious, in between takes she'd do this little ditty that involved kicking her feet to keep the blood flowing which undoubtedly kept me laughing throughout our time outside.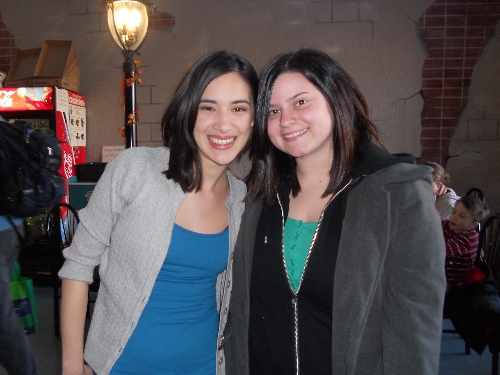 At first Nicole didn't recognize me during our takes, but she soon redeemed herself when she sent Susan Miller to track me down and tell me she knew who I was. Such a good sport you are Susan! Thanks for delivering the message.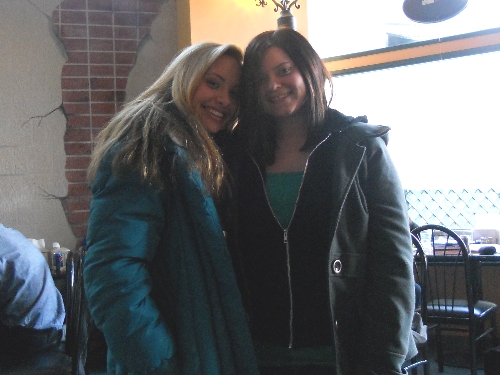 The whole process of filming a scene is really interesting. I can't give you any details as to what was filmed, but I can give you a generalization about the process. The truth is, I'm not only a Journalist but very interested in Video Production. As a viewer I really didn't realize how many takes go into a shot, or how much work the cast and crew does to produce what we see every week. It takes time, lots of time. And of course talent, which Anyone But Me is not short on.
We headed over to another location, inside this time. We broke for lunch, and I got a good opportunity to chat and take pictures with the cast. Nicole and I hail from the same town (when she lived on the East Coast) so we discussed that. Oh and I can't forget to mention Jessy Hodges! That silly girl tried to get out of the group picture, apparently she thought I only wanted "Aster" and "Vivian" in my pic, but little did she know I'm a closet "Sophie" fan. Shhh, don't tell. Rachael and I bonded over Star Wars and our 7th grade chat skills. And for all of you who are wondering what the heck "7th grade chat skills" means, well it's this random banter we've had going via Twitter for a couple months now. Yes, we're geeks and proud of it. Ha.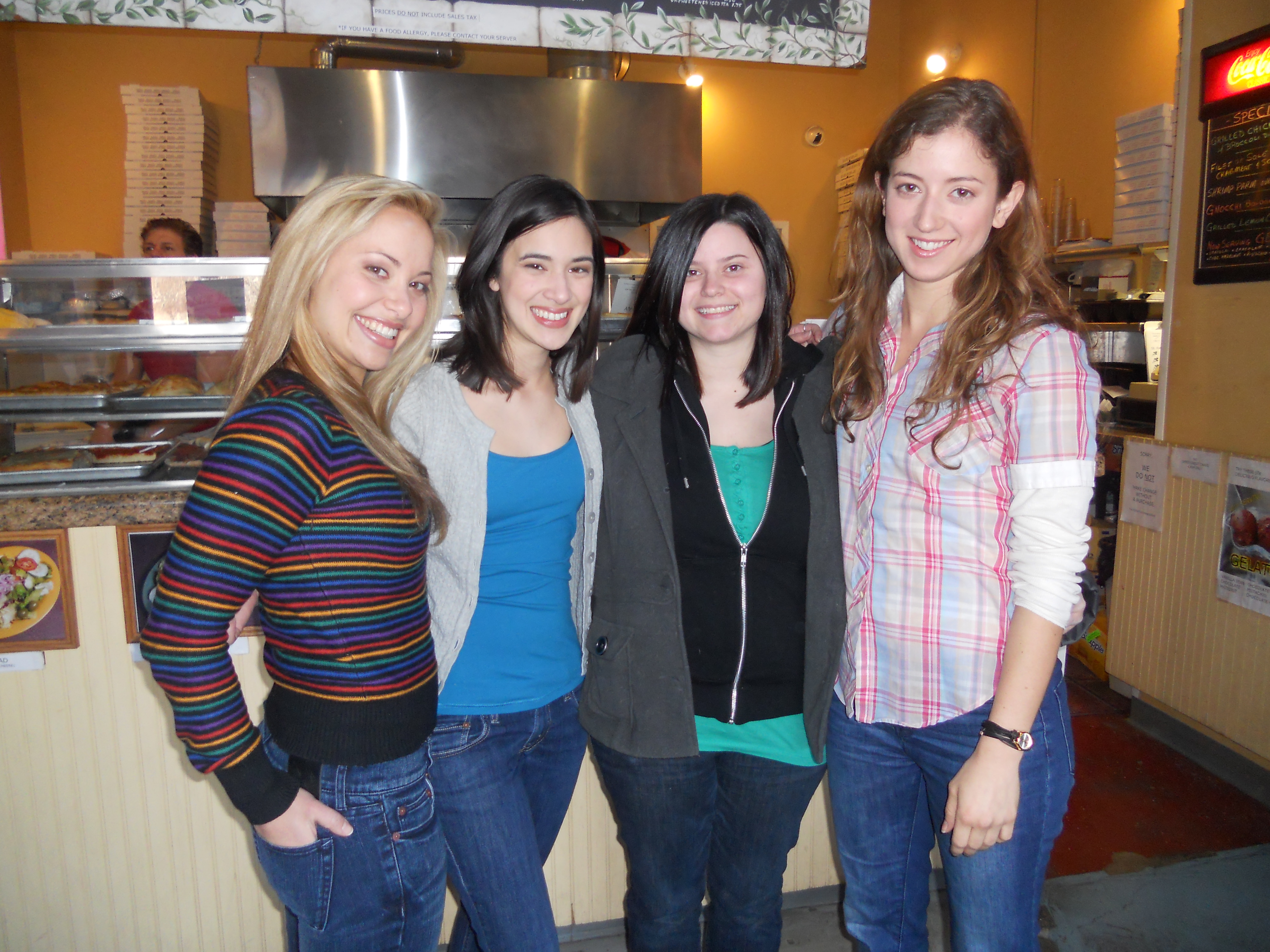 We continued to film at the inside location, and everyone was awesome to me—Susan, Tina, Zelda and Meredith were constantly asking me if I needed anything and had mini conversations with me when we weren't shooting. There was a lot of waiting… but I really didn't notice seeing as Rachael provided comic relief in between takes, oh and Jessy does pretty cool accents.
When I wrapped for the day I got a round of applause and cheering from the cast and crew, which I was not expecting. The energy in the Anyone But Me people is unmatched by anything I've encountered. Not once did I feel unwelcome or out of place, quite frankly I felt at home.
I came home to a lovely tweet from Rachael, and a cute response from Nicole. All in all I had a very productive day, one that I will never forget. And to all the Anyone But Me fans, STAY TUNED… because Season 3 is going to be GOOD! Trust me, I know things. 😉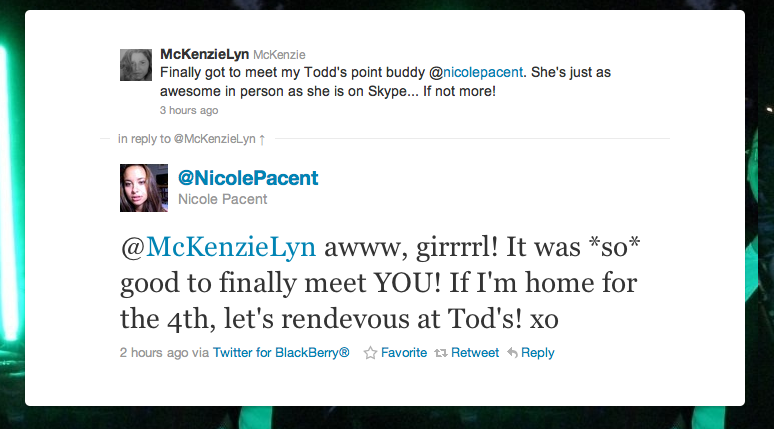 P.S. If any of you have questions that I didn't answer in this (you know, any questions other than spoilers of course) please don't hesitate to pop me a tweet!