Anything But Stick Figures
By Gemma Jacob
I still find it difficult to bring myself to watch the carnage that is otherwise referred to as the Season 2 finale of Anyone But Me. It's not that it was badly written or badly acted or badly anything, that's the problem. The writing was so true and the acting so outstanding that the heartbreak over what transpired feels so real. Even almost after a year, I still watch that episode sparingly.
When the date for the very eagerly awaited S3 of ABM was finally announced I like everyone else counted down the days. I, probably like everyone else too, had many questions to ask. Even with a fansite I am not privy to any more information than any other fan when it comes to what those diabolical ABM goddesses, Tina Cesa Ward and Susan Miller have in store.
Where would the season begin? Would it be a continuation straight from the last episode or could we be taken straight into the new school year? Would we have the summer to try and mend the broken relationships? What of those broken relationships? They were certainly in abundance. Elisabeth and Archibald. Vivian and Aster. Sophie and Jonathan. Gabe and Jodie. And though I shudder to write it, Vivian and Sophie. S2 didn't end with happy thoughts, where would the start of S3 take us?
Two weeks after 'Stick Figures' aired I am finally able to get more than my Twitter-tary thoughts about the S3 premiere onto paper. Like many ABM fans I stayed up to watch the sneak peek followed by the live chat with Rachael Hip-Flores. I couldn't quite manage to stay up until 4am, which is what would have been required of me to be at Nicole Pacent's live chat. However, the buzz that lead up to ABM's premiere episode was reminiscent of the fervour that surrounds the premiere of any major network show. My Twitter feed was ablaze with countdowns and tweets eagerly anticipating ABM's return. In its post season hiatus one thing is most definitely true, the fans still want their ABM.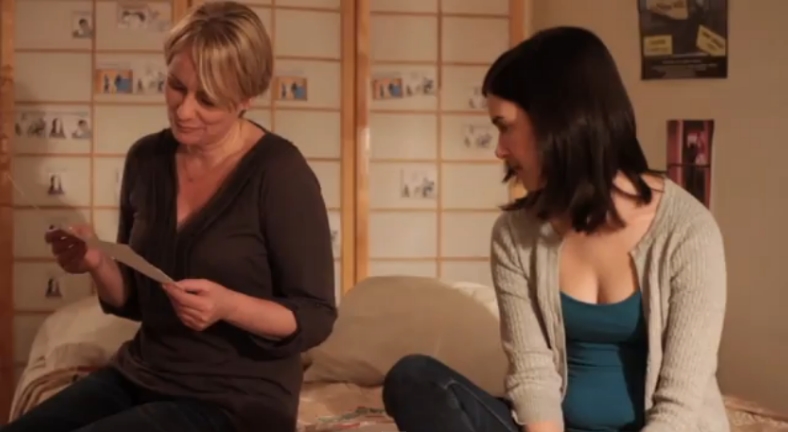 I am happy to see that one relationship seems to have flourished in the gap between seasons, that of Vivian and her Aunt Jodie. I think it's adorable the way Aunt Jodie is supporting Vivian with the comic strip. She is earning major cool points with me, mostly because Aunt Jodie recognises a comic strip as a legitimate form of writing, although I'm sure that has much to do with Tina's own comic book loving ways. I love how this relationship is developing and now that Vivian is finally out to her aunt I cannot see how this would be a bad thing. However, we still have to see if Gabe is getting a frosty reception. I would love for Vivian's mum to show up to break up this happy home, but with only five episodes filmed so far that may have to wait.
When S2 ended I was, as I still am, fervently flying the flag for Team VivSter. Whatever transpires this season I think I will always be waving that flag. However, with a summer, and indeed an autumn, a winter, and most of a spring to think of the events of S2 I am less fervently flying the Team Aster flag. My initial reasoning behind throwing my support in with the Team Aster camp was that Aster was reacting to what Vivian had done. I know that Sophie had been the one to initiate the kiss (after much goading from Aster), but Vivian did not need to lean into that kiss, and to put her arm around Sophie? No. No. No. Just wrong.
Aster was finally in a place where she felt that she and Vivian were solid, and in the light of what was happening in her home life, for the one person she could rely on to do that to her, it was wrong. Vivian knew better and she should have done better. Still, I realise it is unfair to hold Vivian to tighter scrutiny for her mistakes simply because she knew better. It is not right that Aster be allowed to mess up because we know that she has a tendency to let her emotions get the better of her. Therefore, in hindsight, maybe Team Vivian deserves a break. That Team Sophie though, do not ever think I will defend that corner. That girl should have kept her lips to herself.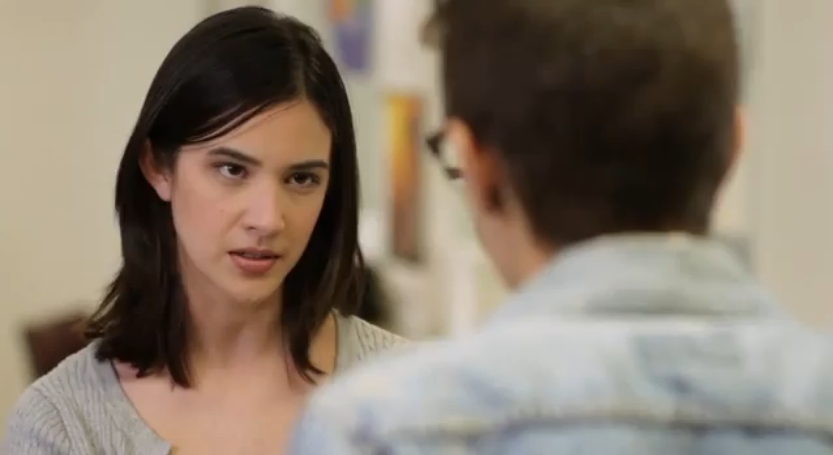 After watching the first episode of S3 I am more than a little concerned at the current state of VivSter (not to mention Vivian's drawing skills, but that's a whole other story). I think it is safe to presume that something happened post S2 that we have not been told about. Jamie's comment about not being to blame for what happened after the kiss and Vivian's inability to defend whatever did happen is more than telling. Also, remind me to never make Rachael Hip-Flores actually angry at me, that glare is no fun.
I am not so worried that I think Vivian and Sophie are actually an item, the way Vivian was comforting Sophie on the train platform looked more like they were friends. My bets are on Sophie's tears being caused by this mystery man.
Vivian looked surprised to see Aster, really bad timing, but I don't think this is the first time she's seen her since the last episode. The look of disgust on Aster's face made me think there had been a conversation with her and Vivian where she'd explained that she and Sophie were "just friends" and they weren't involved. As much as I hate to think it, it looks as though VivSter are on a break whilst they decide what it is they want and seeing Vivian comforting her inappropriate kissing partner did not help the cause at all. At least Vivian has enough sense to go after her. That aside, loving Nicole Pacent's new blonde look and also the first of the web-a-thon cameos, McKenzie Morrell!
So after the first episode what do I think? I think that there are many more questions to be answered. I want to know where Archibald is. I want to know how Sterns is now an okay guy to hang around with. I want to know why Jonathan became such a wanker. I want to know what happened during the summer with Vivian and Aster and Sophie. I want more ABM!!!
The writing is just as superb as it has always been, if not better. How you could not love a line like, "Comments? Preferably ones that start with 'amazing.'" is beyond me. These lines remind me of why I fell in love with this show and the cast. The way that Elisabeth and Sterns seem to have formed a collective around Vivian following Archibald's unexplained (and I hope temporary) departure echoes of how much of a group the actual cast are. I have missed this show so much.
Thankfully, I don't have to wait too long until the next episode, although I am certain I will just end up having more questions. Why do I do this to myself?!?! Well, I know why. I'm addicted to this show is the answer. At least I know I'm not alone. So like every other ABM fan around the world I sit and wait at my computer the way I did all summer, all autumn, all winter, and most of spring for my next dose, and I ask – should the ABM goddesses be listening, that the next episode not be painful. Pretty please.