gemified | September 27th, 2011 - 8:01 pm
Your ABM Needs YOU!
By Gemma Jacob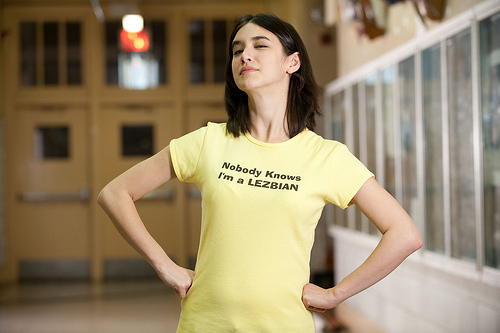 We all know that ABM is coming to end, but the fans are being given one final opportunity to help the show. Unlike the web-a-thon for S3, the finale episode will happen no matter how much is raised by the fans, however anything you can give will be a huge boost to the show. Please read the message below from ABM goddesses Susan Miller and Tina Cesa Ward then click on the link to give what you can. No matter how big or how small the donation, please do what you can to give the show the send off it deserves.
Dear Friends of "Anyone But Me,"
After three seasons with 11 million views worldwide and the first ever Writers Guild of America Award for original new media, as well as many other awards, we are bringing the series to an end with one last episode. Anyone But Me has made history and changed lives. People write to us and say they wish there had been something like this when they were young, or that the show gave them the courage to come out to their parents. There are all night viewing marathons and ABM addicts everywhere.
We have the most loyal, passionate and loving fans any show could hope for.
And that's why we want to give Anyone But Me the send off it deserves by producing a special Series Finale.
But, we need your help.  So, we're reaching out for your support to help us make history again by contributing whatever you can to our final production.
We hope to shoot in January or February. Our amazing cast is all in! So, any amount you can help us raise will go a long way towards realizing our goal.
We'll be posting updates and information on our progress to our website, Facebook & Twitter.
Gratefully,
Susan Miller and Tina Cesa Ward
Executive Producers
You can use the link below or on our sidebar on the right to donate, or you can go to the main Anyone But Me site. Thank you.