gemified | January 17th, 2012 - 12:00 am
The 'Thank You ABM' Project
By Gemma Jacob
Three little words. Three little words can often change the course of your day. Three little words can make you smile, "You look pretty." Or they can make you feel like a little kid, "Clean your room!" Three little words is what we want you to give to ABM in return for everything they have given you, and that is why we are launching the 'Thank You ABM' Project.
I know that everyone is busy and it is difficult to find time but all we need is five minutes of your time. The idea is simple. We want you to make a sign; it doesn't have to be very big, with three simple words: Thank you ABM. Then, take a picture. That's all. You don't even have to be in the picture if you don't want to be.
You can be as creative as you want to be. Write it on a post-it. If you happen to be by a beach, or a nice bit of fresh snow, write it in the ground. Make a collage from letters taken from magazines. Spell it out with something – pens, sticks, if your friends are so inclined, get them to spell it out using their bodies. Write it with alphabet spaghetti. Or simply write it on whatever piece of paper is next to you. If you get really stuck and can't find a piece of paper or a pen that works and you're on Twitter then just tweet us your thanks @ABMFans with the #ThankYouABM hashtag and we'll get it. The possibilities are endless.
Here are a few quick examples of what you could do: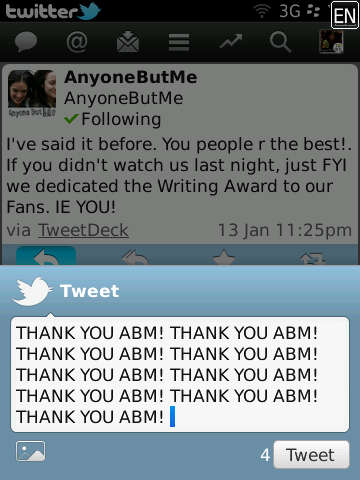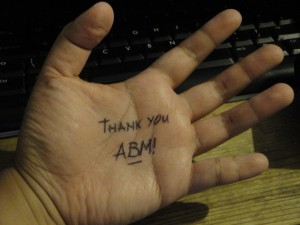 Once you have taken a photo of your sign, e-mail it to us at info@anyonebutmefans.com, along with your name and location and we will put them together for the Anyone But Me peeps.
ABM has given me so much in the last 3yrs, I am sure I am not the only one who can say that, and I would hope that you will find the time to take part in the 'Thank You ABM' Project. We do not have a date yet for when ABM will show its final episode but if you could please get your pictures to us as soon as possible. We would hate for you to not be a part of giving one of the best shows online (or anywhere else for that matter) a proper send off.
So get making those signs. We can't wait to see them.